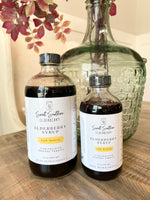 Our Syrup
Our elderberry syrup is made with 5 simple organic ingredients with no added sugars, thickeners or preservatives.  
Each jar is hand-pressed in small batches to maintain the highest quality and that perfect taste.  
Feel confident that you are giving your family the best immune support to fight seasonal allergies, colds and flu.
What Our Customers Say
My kids love the taste!! They ask if it's time yet! This never happened with other Elderberry syrups we've tried.

Crystal Baker
This stuff is AWESOME!  Amazing pricing, perfect taste & even better customer service.  10/10 recommend.

Ansley Kelley
Got my first pint today! It's delicious!  Can't wait to reap the benefits that some of my friends told me about with your syrup!

Colette Jacobsen
We have tried the syrup and wellness tea and both are amazing!We usually purchase from the local farmers market and Jennifer is always so sweet and helpful.The also offer delivery which I have used a few times and my order always arrives quickly.I can't recommend them enough!

Ellen Fisher