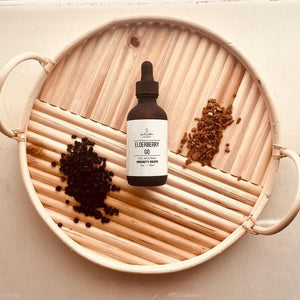 Our Elderberry Go Immunity Drops are a concentrated immunity supplement.  Made with Non-GMO vegetable glycerin, our glycerite is sweet and kid friendly versus those made with alcohol. No refrigeration needed. Shelf stable for up to 2 years! Throw it in your bag and go!
Our Immunity drops are a vegan, sugar-free tincture. Safe for the whole family.*
INGREDIENTS: 
non-GMO vegetable glycerin, organic elderberries, distilled water, organic cinnamon.
Shelf stable for 2 years, no need to refrigerate.
RECOMMENDED DOSING:
Adults: 1 dropper (1ml) daily
Children: 5-10 drops daily, dependent on weight*
IF TREATING ILLNESS:
Take recommended dose every 2-3 hours until symptoms subside.
 *Not intended for use with very young infants.