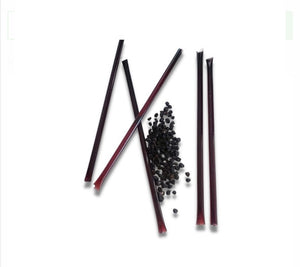 A raw honey stick INFUSED WITH ELDERBERRIES! Take a powerful and yummy immune booster with you everywhere you go. It's great for allergies too!
What's in the straws?
Just TWO Ingredients: Honey and elderberries!
Raw honey carefully infused with elderberries, re-filtered without excessive heat and packaged into "on-the-go" straws - the Elderberry Honey packs a tasty punch to your immune system. With a stunning deep red coloration; this herb infused raw honey will amaze you with its exotic berry flavor and aroma. More importantly though, the elderberries add EVEN MORE Vitamin C, anti-oxidants, anti-inflammatory properties, and a LONG list of other interesting health benefits to the honey!
Each straw is a single teaspoon serving
*This product contains raw honey. Do not feed to infants under 12 months of age.